The Ultimate Haircut Franchise Opportunity
Learn about our haircut franchise and what sets us apart from the competition.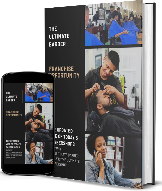 FREE INDUSTRY OUTLOOK REPORT:
Learn more about the mens barbershop franchise industry.

The Big Haircut Franchise Business
One thing which sets the haircut franchise industry apart from other industries is its reliability and stability. It's not just about haircuts anymore. The barbershop can be seen as a haven from stress and worry, where men can relax, partake in a form of self-care and immerse themselves in a friendly community.
The Ultimate Barber takes this barbershop industry and revolutionizes it with technology and multiple revenue streams. Customers have a streamlined experience by using technology to make their appointments through a website or an app, and franchise owners can take advantage of offering a propriety line of high-quality haircare products.
There's little doubt about the need for barbershops (and, subsequently, barbershop franchises). Consider that:

Why Choose The Ultimate Barber?
What Makes Us Unique
What makes The Ultimate Barber one of the best choices for potential franchise owners? Find out why it can be seen as a cut above the competition, ensuring a high-quality experience for both customers and franchise owners.
The Haircut Franchise Business
As a barbershop, The Ultimate Barber combines the old and the new. Customers love the ease of making an appointment on either the app or the website, making the entire process seamless and efficient. By embracing technology, The Ultimate Barber is modernizing barber franchises while retaining an authentic barbershop atmosphere within its locations.
Professional and efficient haircuts and grooming services.
Why Choose A mens haircut franchise?
As a haircut franchise, The Ultimate Barber offers unparalleled support for franchise owners. Unlike other franchisors who do not continue their support throughout a franchise's lifetime, The Ultimate Barber continues franchisee support throughout their time as a owner.

Are You Right for the Haircut Franchise Industry? 
The Ultimate Barber is open to franchise owners who are looking for their next big haircutting franchise opportunity. The ideal owner would be:
Experienced with franchises, especially multi-units
Passionate about the brand and concept, and ready to expand.
Confident but also open to listening to industry advice.
Well-capitalized with $60,000 in liquid capital and a minimum $100,000 net worth.
Does this sound like you? Get in touch today to learn more about haircut franchise opportunities with The Ultimate Barber.